Rexotherm® CIV

Ultra-barrier laminate for vacuum insulation panels
5 to 8 times more efficient
Up to 85% space saving
Longevity of 30 to 50 years
REXOR's vacuum insulation panels (VIP) are five to eight times more efficient than conventional insulation materials. They are used in refrigerators as well as in the building industry. They are thinner and thus help save space. This technology is becoming the ideal solution for thermal insulation.
Complex barrier new generation PIV, Rexotherm ® CIV is the result of more than five years of research. Its first quality is to be maintained to the gas and water vapour, so as to maintain the vacuum in the Panel as long as possible (30 years).
LIFETIME
Complex with the best protection against moisture for an excellent performance in time. Thanks to our know-how in lamination and metallization, we multiplied by two life of VIPs. Their current structure also ensures a very good resistance to folding and perforation.
CUSTOMISABLE
Comprehensive range of metallic complex and fireproof complex which meets all the technical requirements of our customers and adapt to different markets: refrigerator, building (not fire) … Available with a maximum web width of 1500 mm, which allows great flexibility.
VIPA International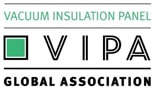 REXOR is one of the founders of the International Association VIPA, whose mission is to act as spokesperson of the global industry of vacuum insulation panels, to promote quality and raise awareness on the earning potential of space and energy cost in a wide range of applications and industries.